As a CEO you want to find different ways to generate more leads and the path is not always clear. There are a lot of discussions against outbound lead generation strategies and the same happens with inbound. The reason we chose today outbound is that we believe in some cases this method has the potential to generate new leads. It is a matter of momentum!
What I mean by this is that you are not going to knock at each one of your target client's door to offer your services. Instead, we are going to provide you with tools to research when your potential client needs your services. Is at this moment that you want to contact them not sooner nor later.
What is outbound lead generation?
Outbound lead generation or "interruption marketing" is about getting in touch directly with a potential customer. This method is usually considered as an old school approach because although you know who your potential customer is, you don't know if they are ready to purchase your service. This turns out to be more aggressive especially if someone doesn't know your business. You are at risk of creating a bad image for yourself if you are not careful. Some examples of outbound lead generation are direct emails or cold phone calls.
When to consider outbound marketing strategies?
In today's hyperconnected world it is very easy to obtain information about a prospect. With a lead generation software we can easily find at what point in their decision process a prospect is. You can obtain information at a personal, business or marketing level:
Personal
Email Address
Phone Numbers
Social Profiles
Background
Business
Employee list
Hiring process
Fundraising
Partnerships
Staff Changes
Expansions
Marketing
Ad targeting list
Ad spend
Once you have built a reliable contacts list and segmented it you are now a step closer to your target audience. You can start targeting them by combining a series of cold emails and Linkedin marketing campaigns. It is crucial to remember that you are building a relationship. Leadfuze has illustrated a perfect automation workflow that you can start implementing to test your outbound strategies.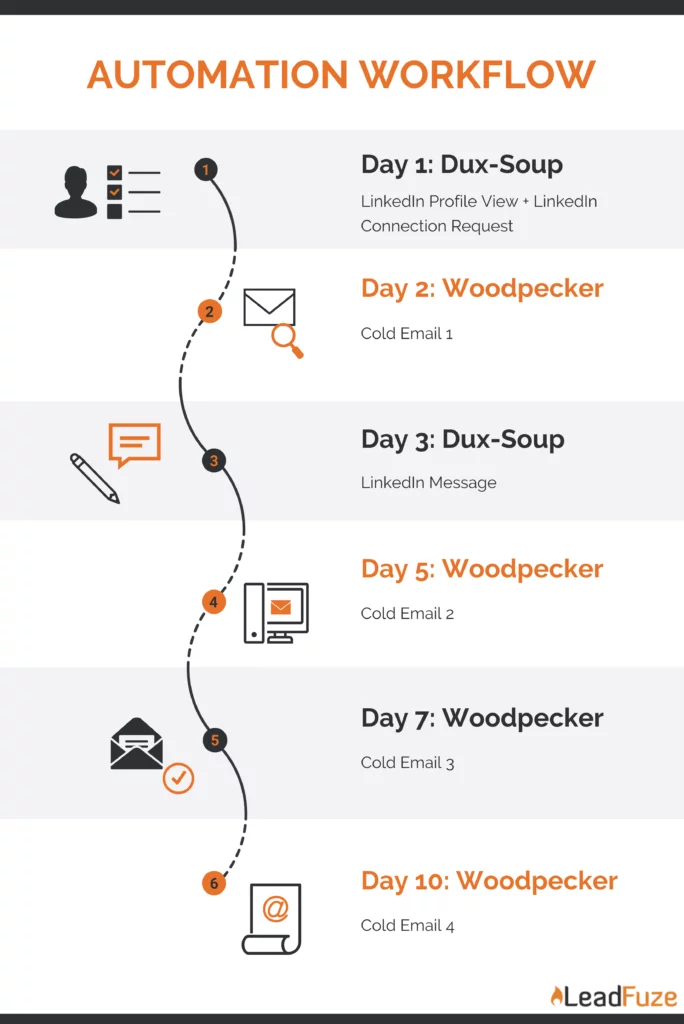 How LeadFuze can help you attract more leads?
LeadFuze is a verified business leads database. They check real-time data and automatically build lists that you can, later on, check and contact if they are a good fit. You can use lead scoring models to estimate the probability of your leads to convert into paying customers. For this extra functionality, LeadFuze offers many integration options with 3rd party applications.
What are some of the things you can do with LeadFuze:
Source leads. Their database contains 1.5 billion profiles whose information is updated every quarter while they continue to add more profiles.
Match individual profiles with the companies they work for. You can obtain detailed information about a company´s profile that includes details such as technologies they use, ad spend, news, jobs and more.
Verify lead information. All lead´s data is carefully revised to reduce the risk of providing outdated details.
You can obtain all this information with a couple of clicks. LeadFuze uses AI and Automation tools to make your work easier and more effective. The main benefits we have experienced while using LeadFuze were:
Less time in prospect research.
Complete information about the company's position in the market.
Reliable details about a lead's position, contact details and social media channels.
Improved sales processes.
How can you use LeadFuze to improve your outbound marketing strategies?
There are 2 methods you can use to target more users. They are similar in terms of approach but differ in terms of what information you have already available from your target audience.
Account-Based Search
When you know for instance what companies you are looking for and want to know more details about the decision-makers at those organizations. In this scenario, you can use account-based search inside LeadFuze by entering the information about your companies.
Below you can see an example of how to perform an account-based search in LeadFuze.
Market Based Search
You want to use market-based search when you don't have specific information about the companies you want to target but you do know generic details. An example would be when you want to research CEO and Founders of companies that have less than $1M in revenue and are hiring for Software developers in Amsterdam. You can run the search in LeadFuze and obtain the information required.
Below is a use case about how to perform market-based searches in LeadFuze.
Conclusion
Now you have more details about the information required to start your outreach using outbound marketing strategies in combination with LeadFuze. Obtaining accurate information and establishing a relationship with your clients at a moment they need you is way more valuable than aggressively contacting everyone.
Do you want to improve your lead data collection processes? Let us know.